How Vision CRM can benefit Pharma industry?

There couldn't have been anything better than the CRM Software to make customer management easy for the Pharmaceutical Industries. Truly!
Sign up to get FREE CRM Trial

The pharma industries include too many players and too many customers. It is close to impossible then to manage all Customer-related data and info manually. You need a smarter and more efficient way to go about it. You need CRM Pharma. So if you want to learn why the CRM is apt for these two industries, you have come to the right place.
Let us take a look at both industries, one after another.
Some of the benefits of CRM Pharma are: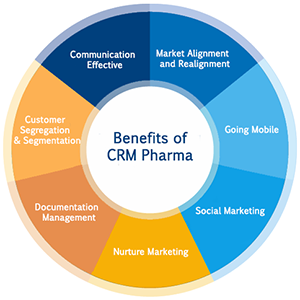 1) Market Alignment and Realignment: CRM Pharma helps to realign the pharma market by customer segmentation, product, territory, new regulations, etc. It aligns customers from HCPs to physicians, and from hospitals to clinics.It maps the revenue, customer base, new customer acquisition, existing customer retention strategies, etc.
2) Going Mobile: Most pharma and life sciences companies have undertaken an efficient mobile phone approach. It helps to deliver customer information to the field salespeople, anytime and anywhere.The CRM Pharma also aides to record a call or visit, track demo and other sample units, and offline-online order management.
3) Social Marketing: Social media can also be used extensively through CRM Services. Marketing messages can be sent to recipients in bulk. The software also helps to create social and digital marketing strategies to engage customers and clients for BD, customer retention purposes, and other reasons.
4) Nurture Marketing: Personalized and specialized medicines require tighter customer segmentation. Life sciences and pharma companies, with the help of CRM Solution, are able to segregate customers by specific topics and nurture campaigning.
5) Documentation Management: The real estate industry has one of the most complex documentation because of all its legalities, etc. It is as elaborate as it is complex but it helps to organize all important data better.
6) Customer Segregation and Segmentation: Segregation and segmentation aides companies to cater rightly to the needs of every group individually. Various forms of campaigning can also be carried out on groups of one's choice, instead of doing bulk and irrelevant campaigning.
7) Communication Effective: The software has distinct tools required for communication management in a rather structured manner.
To find out more about CRM Pharma, click here

to conduct a free call.